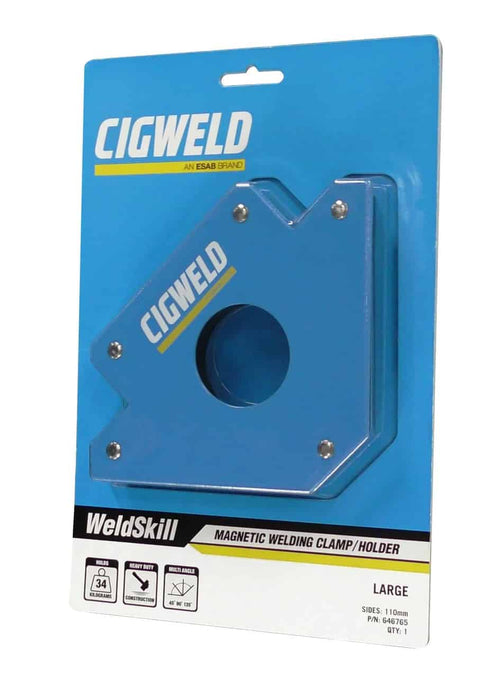 Magnetic Clamp Large
Our WeldSkill Magnetic Work Clamps are the ideal accessory when welding and cutting. Easily keep your workpiece in place with up to 22kg holding capacity!
Multi-Angle – Allows you to hold your metal workpieces in place at various angles while welding.
Arrow Shape – Will hold both sheet and tube at angles of 45° / 90° / 135°.
Strong Magnetic Hold – This strong magnet secures ferrous metals (such as steel) in place – allowing you to keep both your hands free for welding accuracy.
Holding Capacity – Holds 34kg.
Durability – These holders are highly durable and made of heavy duty construction for years of use.
Ideal for use with: Mild Steel – Welding, Soldering, Assembly, Pipe installation, Marking off, Floater, Hanging Applications etc.
WARNING
Magnet must be removed immediately after use. Magnets are susceptible to extreme heat. Please always use a glove to remove and manoeuvre magnets.
NOTE: Magnets do not work with non-ferrous metals such as Aluminium, Copper, Brass, Stainless Steel etc.