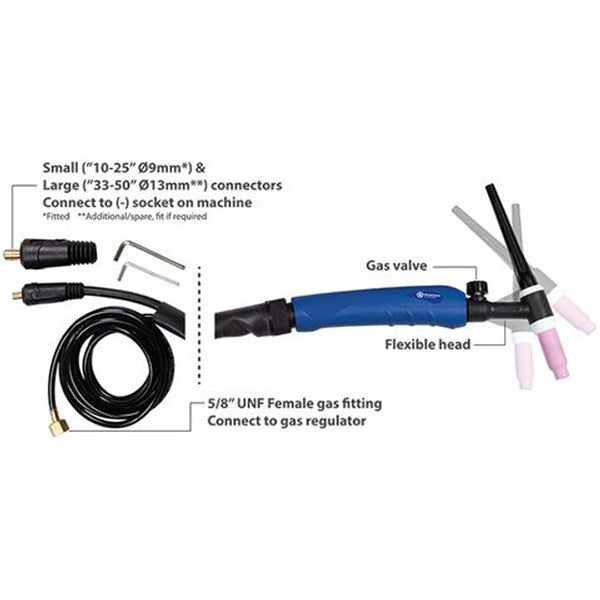 TIG Torches with Valve - 17FV Series (150 Amp)
KEY FEATURES
> 
Made in Europe
*
> Includes standard "10-25" and large "35-50" connectors, ready to fit to most standard inverter welders
> Modern ergonomic Handle with Ball Joint to allow easy handling of the torch
WHAT ELSE ?
> Flexible torch head
> Valved style heads for use with most standard inverter welders
> 2-piece style cable with protective cable sheath fitted
> Includes parts kits & tungsten electrodes "ready to weld"
APPLICATION INFO:
> 150 amp max capacity
> Suitable for use with tungsten electrodes up to 2.4mm, and for welding materials up to approx' 3mm thickness
> Designed for fitting to standard inverter welding machines which do NOT have special control-plug or gas hose connections. The gas hose on the TIG torch is connected directly to the gas regulator (on the gas cylinder) and gas flow is controlled via the valve on the TIG torch head.
PARTS FITTED TO THE TORCH:
1 x 57Y02 Long Back Cap
1 x 10N23 1.6mm Collet
1 x 10N31 1.6mm Collet Body
1 x 10N47 'Alumina' Cup
1 x Tungsten Electrode 1.6mm - DC type, Thoriated Red-Tip
ADDITIONAL PARTS SUPPLIED WITH THE TORCH:
1 x 10N24 2.4mm Collet
1 x 10N32 2.4mm Collet Body
1 x Tungsten Electrode 2.4mm - DC type, Thoriated Red-Tip