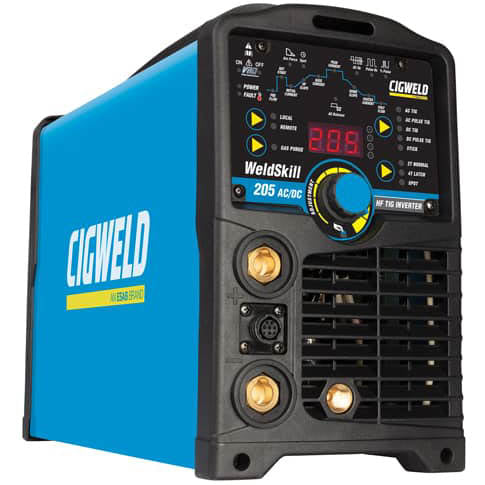 Weldskill 205 Acdc Inverter
The Cigweld WeldSkill 205 AC DC TIG Welder has taken the same great features and robust power from its predecessor and compacted it down into a smaller, lighter and more portable TIG Inverter that weighs a slight 12kg.
The 205 AC DC TIG Welder is a 15 Amp 240 volt, digitally controlled, High Frequency AC/DC TIG (GTAW) and Stick (mmAW) inverter. This unit is specifically designed for the budget conscious user who doesn't want to sacrifice on quality or weld results.
With its compact casing and IP23S rating the 205 AC/DC is ideal for indoor or outdoor use around the workshop and is easy to carry and manoeuvre into hard to reach places when doing light fabrication and maintenance of mild steels, stainless steels and aluminium.
In TIG mode the unit has all the features required to customise your welding preferences - High Frequency (HF), Up/Down Slope, Pre/Post Flow, 2T/4T Trigger Function, Spot Mode and Gas Purge for AC or DC TIG welding.
When welding in AC only, Frequency and Wave Balance can be refined with impressive adjustability and when operating in Pulse Mode the user has full flexibility to adjust Frequency, Width and Peak Current.